Autoclaved Aerated Concrete (AAC)
Being conscious about the amount of raw materials used in building products is a key concept when trying to design efficiently, aiming to reduce the overall embodied energy of materials. Autoclaved Aerated Concrete or as it is more commonly known AAC, is an example of a building material that aims to reduce the overall raw material requirements whilst maintaining as many of the original product's structural and functional properties. This is achieved by creating air pockets within the concrete (aeration). These pockets of air have many benefits besides just reducing the amount of materials required to manufacture it.
Autoclaved Aerated Concrete
Benefits include:
Reducing sound transmission through building elements, as the air pockets prevent noise from travelling through the object reducing transmission.

AAC requires 1/3 the energy needed to make other masonry products, dramatically reducing the material requirements.

AAC has 60% less embodied energy than regular concrete construction, reducing the energy requirements to manufacture it.

It also releases 55% less greenhouse gases during production than regular concrete.

AAC is highly fire resistant with some products reaching a 240/240/240 fire resistance level, making it very suitable for Australian homes in bushfire affected areas.

One of the largest advantages of Autoclaved Aerated Concrete is the fact that is weighs 1/5 the weight of regular concrete meaning that it is much easier to work with, requires fewer labourers reducing costs and also can be hand sawn allowing for greater workability. Although these reductions in weight do reduce the products overall load bearing capacity, that being half of normal concrete. However, this only needs to be considered when building beyond certain levels with specific construction types.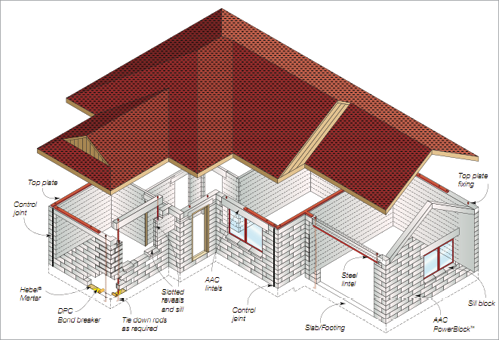 Reference
In the BASIX and NatHERS process, AAC power panel with steel reinforcement and the regular AAC block are recognised in the simulation programs making them a very viable option for environmentally efficient construction.
To read more about BASIX, click here