Active Design is an evidence-based approach whereby physical activity is encouraged within a community development and/or dwelling. Based upon health research into the impact of physical exercise on combating obesity and other related health concerns, active design sees architectural design as a large-scale solution to improving "the physical, mental and social well-being of communities around the world"i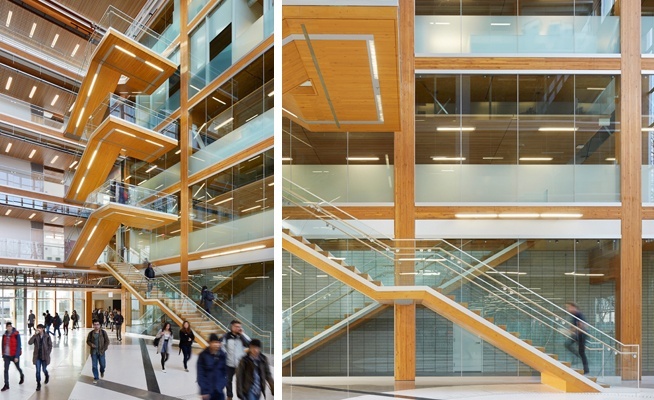 University of British Columbia Earth Sciences Building
So what are the advantages of Active design and how does it make a positive impact?
There are a few widely noted benefits of Active Design, including:
Increased health and wellness
Aside from disease prevention, it is also widely recognised that an increase in physical activity results in higher levels of happiness and overall wellness. Companies around the world are recognising this and taking advantage of the relationship between increased employee wellness and higher worker productivity setting the tone for future workplace developments[ii].
Increases opportunities for collaboration within the workplace
More active employees within an office space leads to an increase of interaction and engagement with one another. Aside from promoting wellbeing, such unplanned communication opportunities would also see the sharing of work related ideas and topics encouraging cross-departmental innovation and collaboration.
Reduced overall dwelling energy consumption
If the dwelling is designed to encourage stair use for inter-floor journeys instead of the elevator (for example), less energy is used and subsequently less greenhouse gas emissions released.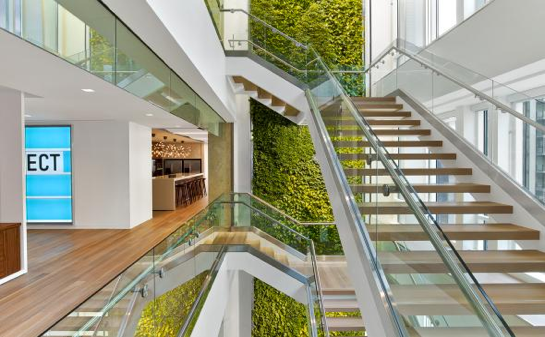 At Certified Energy, we are great proponents of Active Design and its benefits for a range of projects:
BESS credit points & Green Star
Although not a new concept, Active design is only beginning to be more commonly applied in Australia. If it can be demonstrated that Active Design is incorporated within a dwelling, an opportunity to gain credit points in the Innovation section of both the BESS Scorecard (Victoria) and Green Star (National) exists to achieving a simpler building application process (and being friendly to the environment!). In relation to Victoria (but relevant Australia-wide), Council Planning Permits can be notoriously tricky and a risk to slowing down a project. Strengthening the application with a strong BESS assessment should ensure that these roadblocks are minimised.
Meeting growing consumer expectations and requirements.
Home – Consumers interest in sustainability has grown rapidly in the last few years. As public awareness grows, so does the desire more sustainable homes. Saving money, reducing environmental impact and living within a healthier home environment are just some of the advantages of sustainable buildings that consumers are now seeking

[iii]
Workplace – Being an employer of choice is important for companies to remain competitive by acquiring and retaining high quality staff. Employees often align their own values with their employer – specifically Gen Y employees who routinely cite business values including environmental advocacy and health and wellbeing as highly desirable

[iv]

.

It is therefore imperative that companies adopt these values. Active Design can be a major factor in work choice is its components advocate for healthier, better building design.
At Certified Energy, we are passionate about Active Design as an exciting approach to reduce our collective environmental footprint. Call us today to discuss BESS and/or Green Star requirements and how your next project could become eligible for 'Innovation' credit points!
*********
Resources:
[I] World Green Building Council "Active Design Guidelines"2010, accessed 16/1/18
https://centerforactivedesign.org/guidelines/
[ii] BETA, "Active Design in Buildings", 2016, accessed 16/1/18
https://beta-office.com/project/active-design-buildings/
[iii] Centre for Active Design, "What is Active Design?", 2018, accessed 17/1/18
https://centerforactivedesign.org/WhatIsActiveDesign/
[iv] World Green Building Council, "Building the Business Case for Health, Wellbeing and Productivity, 2016, accessed 17/1/18
http://www.worldgbc.org/news-media/building-business-case-health-wellbeing-and-productivity-green-offices
[v] Green Building Council Australia, "Why Use Green Star", 2018, accessed 17/1/18
http://www.gbca.org.au/green-star/why-use-green-star/own-a-green-residential-building/35599.htm
[vi] Millennial Marketing, "Gen Y Our Values Define Us", 2010, accessed 17/1/18
http://www.millennialmarketing.com/2010/02/gen-y-our-values-define-us/